Automatically populate device counts for Fire Extinguisher Service Proposals, Fire Alarm Service Proposals, and Fire Sprinkler Service Bid Sheets.

Ability to custom tailor your quotes, estimates, and proposals with your company name, logo, colors, and legal text.

Save time and money on the following:


Fire Extinguisher Service Quotes and Bid Sheets
Fire Alarm Panel Service Quotes
Fire Sprinkler Service Quotes
Hood Service Quotes
Life Safety Product Quotes

Quick Quote Option:

Install Builder


Input your company's Life Safety Product Lines into Fire Watch ES to create drop down selections for quick Life Safety Estimates, Deficiency Service Estimates and Life Safety Annual Service Estimates.

Easily save, access, and share all Building Reports, DWG's, panel type and other hardware information.




Mac OS X 10.9.5 or Higher

v1.4.0

Windows


Windows 7 SP1 or Higher

v1.4.0
Pricing

Or

No purchase is required for the demo version.
Questions? See our contact information in the software's About Box.
Sandy Knoll Software, LLC Support FAQ:
Download/Install/Uninstall Information
Contact Information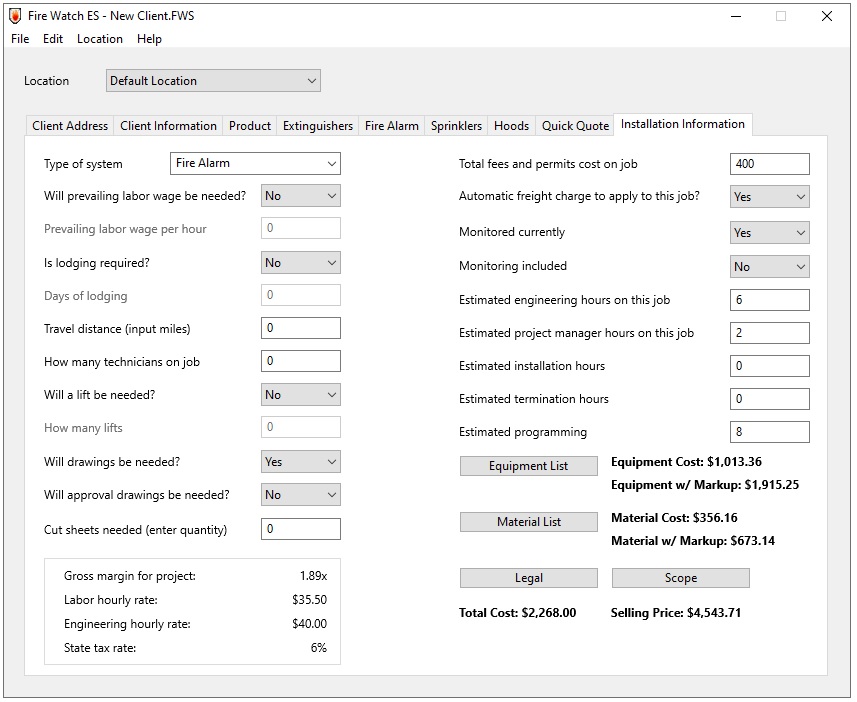 Life Safety Installation Estimating Tab
Simplify estimates, quotes, and proposals for all types of Life Safety Providers.


Company cost is entered into the install builder. The software will populate with margin rate that is preset by the end user.


Software covers: Labor Hourly Rate, Project Manager Hourly Rate and Engineering Hourly Rate.


Software covers programming hours and termination hours.


Ability to add costs such as Per Diem, Travel, Lodging, Freight Charge and Lift Rental cost directly into the bid documents/proposal.


Preset legal and customizable legal for quick and accurate proposal to customer.


Preset legal is tailored to type of job selected. (i.e. Fire Alarm, Security, Sprinkler)


Printable Material List and Equipment List for ease of ordering, or for order fulfillment from stock merchandise.


Ability to upload photos, CAD files, PDF or Word documents directly into the file. No more searching multiple files or drives for information.


Installation tab offers information on whether drawings or approval drawings will be needed.


Installation tab gathers information for if a lift is required, travel, how many technicians will be on site, how many cut sheets needed, is it monitored? etc.


Custom Scope of Work is populated on your proposal for a neat professional view.


Permit fees and cost on job are included in the installation tab.


Installation tab will give you a cost on job that your company sees and also selling price that the end user sees on final report/proposal.


Video help file that can be used as a training tool to save you time and money training staff to use Firewatch ES.
Your browser does not support the HTML5 video tag.
Life Safety Installation Estimating Video


Fire Sprinkler Layout Estimator - Click to Enlargee


Sample Proposal - Click to Enlarge
Fire Watch ES is specifically designed to complement Life Safety Service Companies that do more than one type of system service. This allows the company to be more productive and to better manage time spent quoting Life Safety Systems. We currently offer the following Life Safety categories in our Fire Watch ES software:
| | | |
| --- | --- | --- |
| | Follow us on Facebook | |