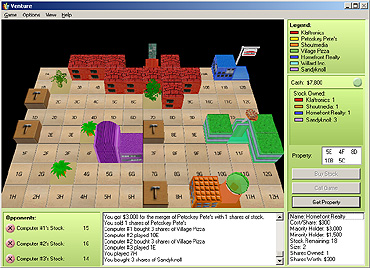 The object of Venture, a stock market simulation game, is to acquire the most money. This is accomplished by building companies, merging companies and buying, selling and trading stock.

What is a stock market?

A stock market (also known as a stock exchange) has two main functions. The first function is to provide companies with a way of issuing shares to people who want to invest in the company. This can be illustrated by an example:

Suppose a stock market simulation game company has a mining lease over an area with some rich ore deposits. It wants to exploit these deposits, but it doesn't have any equipment. To buy the equipment it needs money. One way to raise money is through the stock market. The stock market simulation game company issues a prospectus, which is a sort of advertisement informing people about the prospects of the company and inviting them to invest some money in it. When the company is 'floated' (established) on the stock market, interested investors can become part-owners of the company by buying 'shares'. If the stock market simulation game company operates at a profit, shareholders benefit in two ways – through the issuing of dividends in the form of cash or more shares, and through growth in the value of the shares. On the other hand, if the company does not operate at a profit (e.g., if the price of the product dips), the shareholders will probably lose money.

The second function of the stock market, related to the first, is to provide a venue for the buying and selling of shares in this stock market simulation game.

Stock markets are big business

The buying and selling of shares on the world's stock markets is big business, which is why we hear so much about it in the news. In 1994, the annual turnover in shares at the world's largest stock market, the New York Stock Exchange (also known as 'Wall Street'), was $US2.5 trillion (that's about $A4.1 trillion – a trillion is a thousand billion). Even the Australian Stock Exchange (the world's twelfth largest) will turn over about a billion dollars worth of shares on a quiet day.

But how do these investors in a stock market simulation game know what stocks to buy, and when? Making good investment decisions depends on obtaining as much information about the market as possible. Cracking the codes used by the stock market would be a good start.

Acquire this computer game today.

Become the world's largest venture capitalist by buying, selling and trading stock,
all while trying to grow your own businesses.


Mac OS X 10.3.9 or Higher
v2.2.8
Note: To open on OS X 9.5 or higher, Control-Click or Right-Click on the application icon and choose Open from the popup menu.


Mac OS 9
v1.1.0
(Does not contain all features and is no longer officially supported.)
v1.1.0
(Free demo version has some limits)
Sandy Knoll Software, LLC Support FAQ:
Lost serial numbers
Order History
Download/Install/Uninstall Information
Contact Information


Three levels of computer opponents.
Cross platform network play with up to four players.
Four stock market game play variations:
- Standard
- Urban Renewal
- Disasters
- Defunct Companies
Exciting 3D graphics.
- Talk a stroll through your corporations as you watch them grow.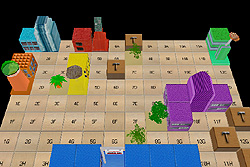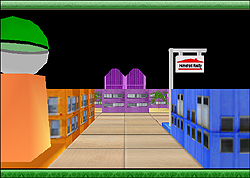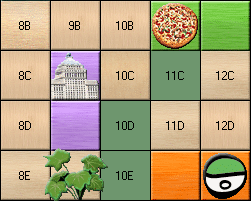 ---

---