The free shareware/trial version is limited to scheduling/team pairing for up to 6 teams. The full
unlimited version of Schedule Creator team pairing software may be purchased for $4.95.

Visit The Sandy Knoll Software, LLC Homepage
Windows
Windows 7 SP1 or Higher


v1.5.0

$4.95

Mac OS
Mac OS X 10.10.5 or Higher
64-Bit
Intel & Apple Silicon


v1.5.0

$4.95
How to use Schedule Creator Team Pairing Software:
To create a team pairing schedule enter the number of teams
(this must be in even intervals).

Next, enter the number of weeks the team pairing
schedule will encompass.

Team Pairing Shuffling:

There are three options
- Shuffle Row
- Shuffle Columns
- Shuffle Repeating Rows

Shuffling allows you to mix up how the team pairing schedule is produced.

Shuffling the rows lets you mix up when teams are paired up against each other. By default team one is paired up with the highest team the first week, followed by the next highest week the following (so on and so on). By shuffling the rows team one is not guaranteed to be paired with the highest team the first week.

Shuffling the columns allows you to mix up the team pairing schedule within each week. By default with this option off team one will be paired in the first position each week. This option is defaulted on.

Shuffling the repeating rows allows the columns to be shuffled once each team has been paired with each team. For this option to become available the number of weeks must exceed the number of teams. This team pairing feature allows teams being paired the second time to not necessarily be paired in the same slot as before.

Team Pairing Scheduling:

Optionally you can set up a date schedule.

Enter the start date and the first starting time:

And the interval between each team pairing:

If there are any dates that will be skipped (holidays...) entered them in the off dates window; otherwise, when the schedule is created every week is assumed.

Creating a Schedule:

Once all the team pairing options have been picked press the Create Schedule button.

This will generate a schedule.

Once generated you can Export your team pairing schedule using the export feature. This allows you to import the team pairing schedule into a word processor, spreadsheet program or web page.

Schedule Creator Screenshot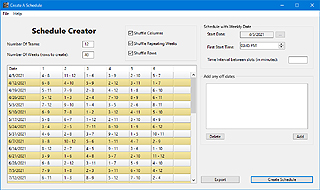 (Click to Enlarge)
Schedule Creator's Team Pairing Uses:
High School Sports Team Schedules

Professional Sports Schedules

Golfing Leagues - Golf Tournaments

Bowling League Team Pairing

Any Kind of Sports Tournament

Use as a Sports Schedule Maker


Download Schedule Creator
Team Pairing Software for Windows.


Download Schedule Creator
Team Pairing Software for Mac OS X.
Sandy Knoll Software, LLC Support FAQ:
Download/Install/Uninstall Information
Contact Information
Also See...
Bowlers Aide

Bowlers Aide: A Bowlers Application Designed to Compute your Current Average and Project the Impact a Series Score will have on your Current Average.



v1.0.1
$ .99