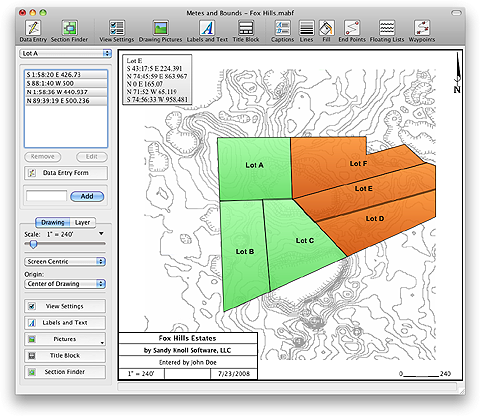 Landmen, also known as land agents or land negotiators, are professionals who play a crucial role in the oil, gas, and mineral industries, as well as in real estate and land development. They are responsible for various tasks related to land acquisition, leasing, and rights-of-way. Landmen use a deed plotting program like our "Metes and Bounds" for the following reasons:

Boundary Determination: Landmen often need to accurately determine property boundaries, especially when negotiating leases, rights-of-way, or land acquisitions. Our deed plotting program helps them visualize and analyze property lines, ensuring they have a clear understanding of the land's dimensions and boundaries.


Lease and Easement Analysis: Landmen negotiate leases and easements with landowners for various purposes, such as mineral exploration, drilling, or construction. Our deed plotting software assists in mapping out lease areas, easement routes, and any restrictions, ensuring that agreements are based on accurate spatial data.


Title Research: Before any land transaction, landmen need to conduct thorough title research to verify ownership and rights associated with a property. Our deed plotting software aids in analyzing historical deeds, legal descriptions, and property records, helping landmen assess the chain of ownership and potential encumbrances.


Surface and Subsurface Rights: In the oil, gas, and mineral industries, landmen must differentiate between surface rights (land surface ownership) and subsurface rights (mineral rights). Our Metes and Bounds plotting software assists in delineating these rights, enabling landmen to negotiate separate agreements for each.


Documentation and Reporting: Landmen often need to provide visual documentation and reports to clients, stakeholders, or legal entities. Our deed plotting software allows them to create accurate maps, diagrams, and visual aids that support their negotiations, legal proceedings, or presentations.


Due Diligence: Before acquiring or leasing land, landmen need to ensure that the property's boundaries and legal descriptions align with their client's goals. Our deed plotting software aids in the due diligence process by confirming the accuracy of property information and identifying any discrepancies.


Project Planning: Landmen can use our deed plotting software to plan the layout of facilities, pipelines, or other infrastructure on a property. This helps optimize land use and minimize potential conflicts with neighboring properties.
In essence, our deed plotting program assists landmen in accurately analyzing, visualizing, and communicating property boundaries and legal descriptions, which are essential aspects of their work in negotiating leases, rights-of-way, and land acquisitions.

Mac OS X 10.10.5 or Higher
64-Bit


Windows 7 SP1 or Higher


$79.95